---
Welcome to Jean Steinhardt's House Portrait Press Kit

"Every house has a story ... A house portrait helps you tell it."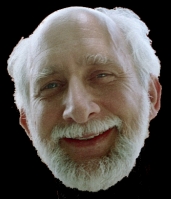 BIOGRAPHY
Jean began his art career at age two, when his mother found him trying to strangles his baby brother. As the first born, Jean had been used to being the center of attention. Now this intruder had usurped his spot. He decided to remove the competition. Luckily the boys' mother, a wise woman, decided Jean needed more attention and began praising everything he drew. His medium has changed, but to this day drawing is his favorite thing to do. And his brother has forgiven him.

In spite of his love of drawing, Jean chose not to go to art school. He wanted something more practical. So he studied philosophy at Boston University instead. Imagine his chagrin when he discovered that the world was not willing to pay him to think about Life, the Universe, and Everything.

Jean's art has ranged from cartoons, many of which have appeared in various publications, to figure studies. In the 1980s, the artist began offering custom house portraits at the Heights Festival in Houston. Since then, he has drawn houses from Massachusetts to California, and from Alaska to Mexico.
When Jean was in first grade, his parents bought a lot in suburban Kansas City, Kansas, and began building a house. They cleared the land and dug ditches for the foundation. They had a contractor pour a slab. Then they built the walls, one brick-red concrete block at a time. When the walls were built, they hired another contractor to put on a roof. The walls were level at the top, leaving an opening the shape of an "A"?¯ between the top of the walls and the peak of the roof. The Steinhardt family moved into the house before they closed the "A."?¯
"One night," Jean recalls, "the neighbor's cat noticed the opening, and entered the house after we had all gone to bed. He dropped down to the floor and found my brother Leon's bed. It looked comfortable. He crawled into bed and snuggled up against my sleeping brother. After a while, Leon moved in his sleep and rolled over on the cat. The cat woke up. The cat was not amused. In fact, the cat was scared and mad. He went into attack mode, hissing, spitting and snarling in that blood curling way that only a cat can do. So Leon woke up, scared and bewildered. He leaped up on the bed, grabbed his cover and held it up in front of him looking like a bull fighter who had lost his mind."
"I have a vivid memory of this moment in our young lives. My memory of the event is more vivid than my memory of what the house looked like."
Many of Jean's clients have stories about their houses, as well. The stories can be as important to preserve as the image of the house itself. Acknowledging this fact, when Jean finishes a commission, he writes a paragraph or two about the house on the back of the drawing. In that way, future generations will have a little bit of family history preserved for as long as the drawing lasts.
And the drawing will last for a long time. Jean uses the highest quality acid free, pH neutral, 100% cotton rag paper for his drawings.
So if you know of a house with a story to tell, contact Jean … he will help you preserve it.
---
---
Copyright 2010 Jean Steinhardt (email: HousePortraits@JeanSteinhardt.com)
http://www.jeansteinhardt.com/preshous.htm: revised -- 15 March 2010